About the Award
Everett E. Hudiburg was a member of the Stillwater, Oklahoma, Fire Department from 1934 to 1954. He worked his way through the ranks of the department, serving as the fire chief from 1945 to 1954. He was a proud graduate of Stillwater High School and Oklahoma State University.
Beginning in 1952, Hudiburg served a three-year apprenticeship as associate editor of the International Fire Service Training Association. In that role, Hudiburg attended all of the annual IFSTA Validation Conferences. Having written parts of some of the earlier manuals and deeply involved in the editing and publication of others, he was quite familiar with all of the IFSTA publications and the publishing process. When Hudiburg took over as the IFSTA Editor in 1955, his leadership capability and significant past experience with IFSTA allowed him to effectively maintain the continuity of the program. He loved his work with IFSTA and was quite proud of his role in publishing fire service manuals that were used worldwide. Following his retirement, Hudiburg continued to edit manuals for the organization for quite some time.
---
2023 Award Recipient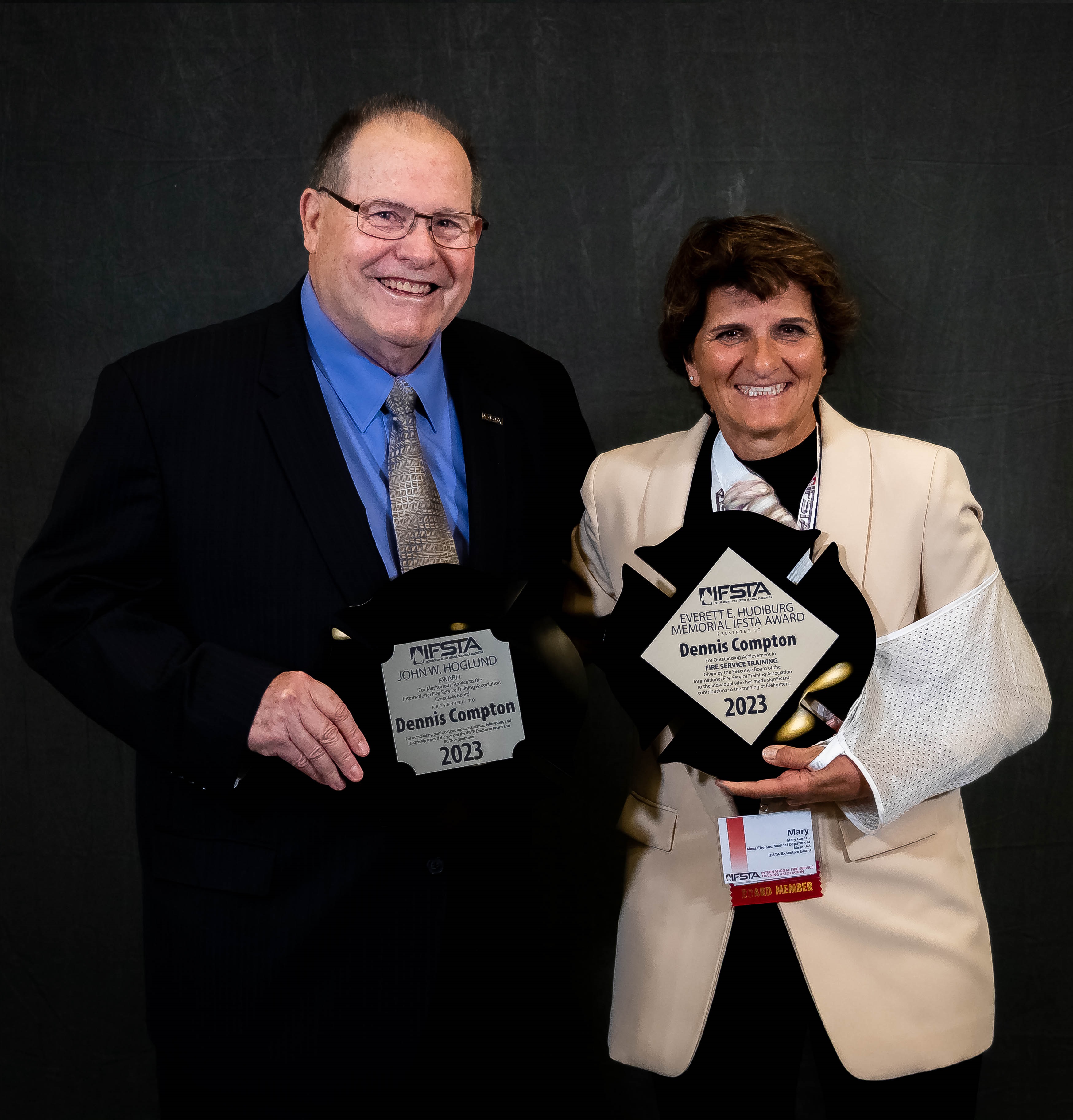 Dennis Compton, retired fire chief and former International Fire Service Training AssociationExecutive Board chairman, was awarded the 2023 Everett E. Hudiburg Memorial Award, as well as the 2023 John W. Hoglund Award, during the 90th IFSTAⓇ Summer Validation Conference July, 8 2023.
Chief Compton has more than 52 years of experience in the fire service. Throughout his years, he has taught, counseled, and mentored firefighters, fire officers, and other fire service leaders. The number of firefighters he has touched through his leadership is in the thousands.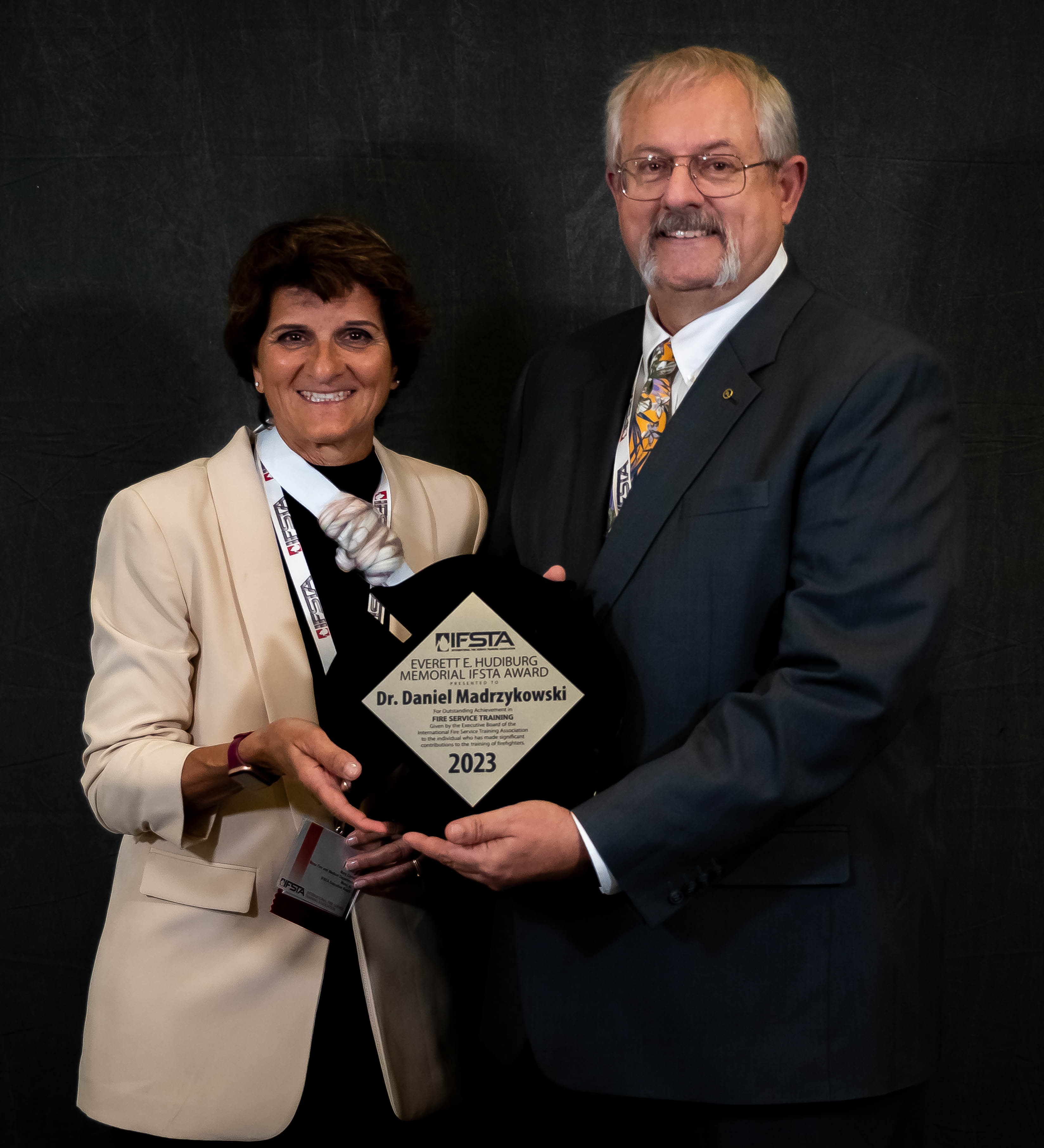 Dr. Daniel Madrzykowski, senior director of research for UL's Fire Safety Research Institute (FSRI) and IFSTAⓇ Executive Board member, was awarded the 2023 Everett E. Hudiburg Award during the 90th IFSTAⓇ Summer Validation Conference July 8, 2023.
Dr. Madrzykowski has more than 35 years of experience working to improve fire safety by conducting research and development in the areas of fire dynamics, fire test methods, fire control, and fire investigation. Going beyond the limits of the laboratory, Dr. Madrzykowski has been engaged with fire service organizations to share and teach the results of fire research in a way that can be understood and implemented by fire departments in their training.
---
Past Recipients
1972

Henry D. Smith

1973

Andy Miller

1974

John W. Hoglund

1975

Louis J. Amabili

1976

Glenn A. Boughton

1977

Richard Calhoun

1978

Carl McCoy

1979

Kenneth Stanton

1980

Carrol Herring

1981

Elmo Anderson

1982

Keith Royer

1983

Joseph L. Donovan

1984

Martin Grimes

1985

Alan Brunacini

1986

Arlen D. Gross

1987

Gerald E. Monigold

1988

Marvin Austin

1989

Howard Boyd

1990

Catherine B. Lohr

1991

Harold R. Mace

1994

Max McRae

1995

Dr. John Bryan

1996

Paul H. Boecker

1997

William Vandevort

1998

Carl Holmes

1999

J. Faherty Casey

2000

Raymond C. Davidson

2002

Gene P. Carlson

2003

Hugh Pike

2004

Steve Edwards

2005

Dr. Denis Onieal

2007

William Goldfeder

2008

Michael Wieder

2009

Meri K. Appy

2010

Christopher Neal

2011

Chuck Burkell

2012

Ron Siarnicki

2013

Dr. Anthony Brown

2016

Ronny Coleman

2016

William Troup

2018

Russ Sanders

2020

Nancy Trench