About the Award
John W. Hoglund served as the director of the Maryland Fire and Rescue Institute for 22 years, from 1970-1992, and as Director Emeritus until his passing in 2020. Hoglund was a nationally renowned leader in the fields of firefighting education, fire prevention and public safety.
Hoglund was a member and officer of the International Society for Fire Service Instructors, served on the Joint Council of National Fire Service Organizations and was a founding member of the National Professional Qualifications board formed in 1972. He chaired the National Fire Protection Association's Technical Committee on Fire Service Training and Education for 17 years. Hoglund was a former president of the Maryland Fire Chiefs Association and was honored to serve as its chaplain for many years. During his career, Hoglund was also honored for his work as a champion of diversity in the fire service.
The Maryland Chief Officers Seminar was renamed the John W. Hoglund Maryland Officers Seminar in his honor and he was inducted into the Maryland State Firemen's Association's Hall of Fame in 1989 for his contributions to the Maryland fire service.
Hoglund loved the International Fire Service Training Association and they loved him back. He served on IFSTA's Executive Board from 1983 until his passing in 2020. His many awards and recognitions included receiving IFSTA's coveted Everett Hudiburg Award for significant contributions to the training of fire service personnel.
---
2023 Award Recipient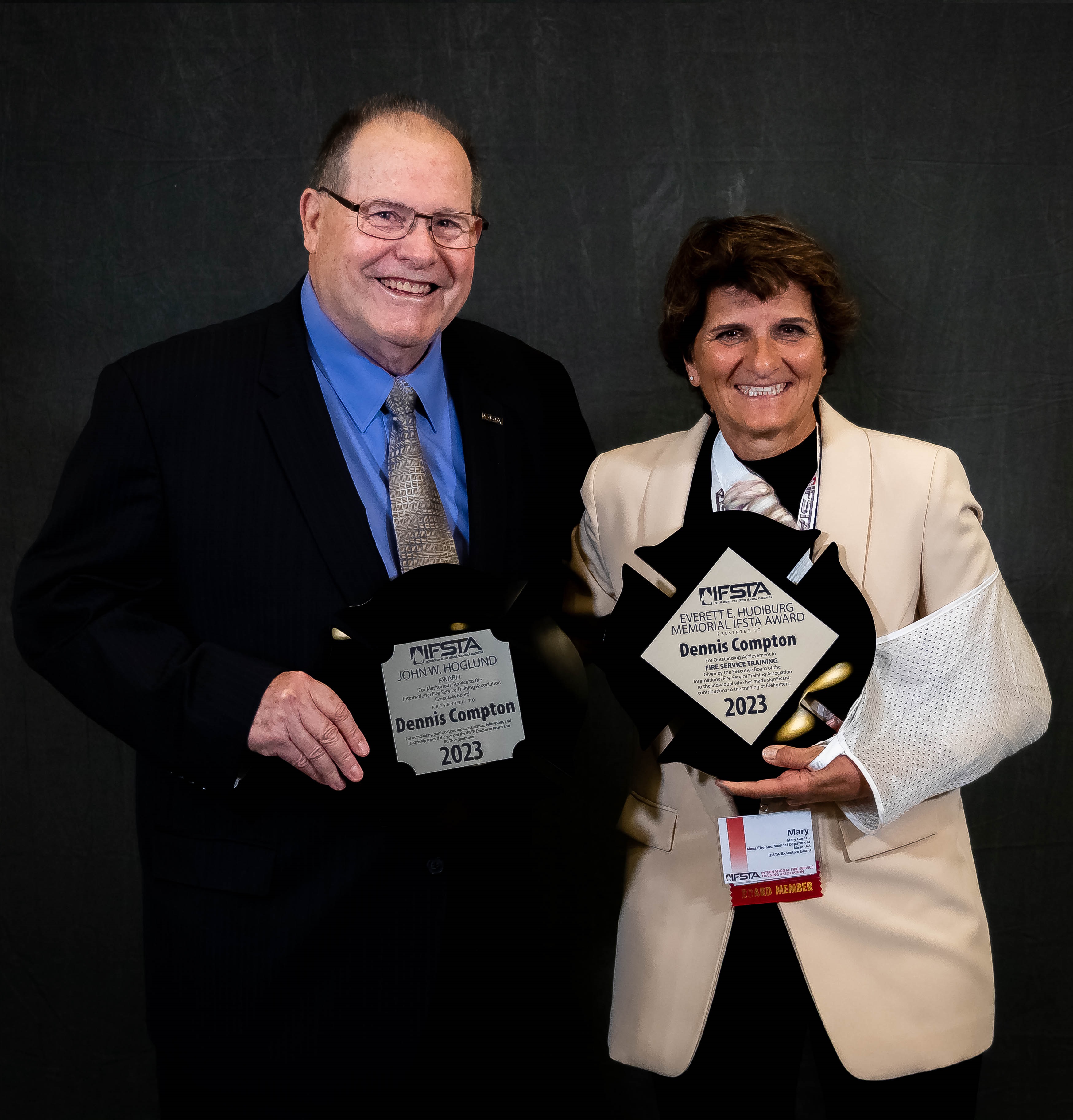 Dennis Compton, retired fire chief and former International Fire Service Training AssociationExecutive Board chairman, was awarded the 2023 Everett E. Hudiburg Memorial Award, as well as the 2023 John W. Hoglund Award, during the 90th IFSTAⓇ Summer Validation Conference July, 8 2023.
Chief Compton has more than 52 years of experience in the fire service. Throughout his years, he has taught, counseled, and mentored firefighters, fire officers, and other fire service leaders. He was on the IFSTAⓇ Executive Board for nearly 40 years and served two terms as chairman.
---
Past Recipients
2016

John W. Hoglund

2018

George Dunkel