About the Award
Marvin L. Austin joined the Homewood, Illinois, Fire Department in 1954 and served as their training officer for many years. He worked his way through the ranks of the department until his retirement as assistant chief in 1971. Chief Austin joined the Illinois Fire Service Institute in 1960 and taught at their fire college for more than 20 years. His courses included salvage, aerial ladders and elevated platforms, pump operations, apparatus tests, maintenance and specifications, and many more. He also served on the IFSI Advisory Committee.
Following his career with the Homewood Fire Department, Chief Austin became the assistant manager of Insurance Services Office of Illinois. This role kept Chief Austin connected to fire departments in Illinois, where he could help them become more effective.
His leadership contributions to the fire service were many. He was the chairman of Fire Department Instructors Conference and executive secretary of the International Fire Service Training Association Executive Board. This position on the IFSTA board provided many opportunities for Chief Austin to work closely with Fire Protection Publications staff at Oklahoma State University.
Chief Austin loved people, had quick wit and an incredible sense of humor. The FPP staff was particularly fond of him. During his time with IFSTA he served on several committees and was critical to the success of the organization for many years. Chief Austin passed away in 2018.
---
2021 Award Recipient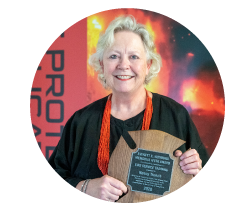 Nancy Trench, retired FPP assistant director, was awarded the Marvin L. Austin Award during the International Fire Service Training Association's 88th Annual Validation Conference in July 2021.
Trench was involved in the IFSTA Validation Conference in a number of ways during her more than 40 year involvement with Oklahoma State University's fire programs.
During her time with OSU Fire Service Training, she was active in the IFSTA validation process and conferences. She was a major advocate for the creation of the Public Fire Educator, First Edition manual – now titled Fire and Life Safety Educator – and served on the validation committee for that manual.
---
Past Recipients
1981

Marvin Austin

1983

Roger Sweet

1986

Max and Vera Thomas

1992

Harold Mace

1998

Dennis Compton

1999

William Vandevort

2000

Carol Smith

2001

John Hoglund

2002

Gene Carlson

2005

Jimmie and Charlotte Badgett

2007

Don Davis

2008

Jim and Kay Simms

2009

Barbara Adams

2009

Richard Giles

2010

Arlen and Ardith Gross

2011

Frank Cotton

2013

George Dunkel

2014

Dr. Robert England

2015

Richard and Kathy Pippenger

2016

Lynne Murnane

2017

Glenda Bentley

2018

Steve Ashbrock