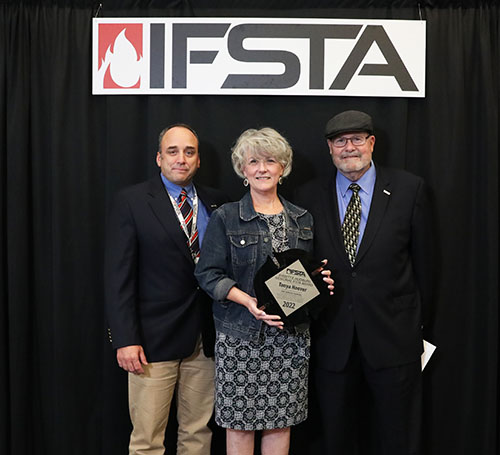 Tonya Hoover, deputy U.S. Fire Administrator and past IFSTA Executive Board member, was awarded the Everett E. Hudiburg Memorial Award during the International Fire Service Training Association's 89th Annual Validation Conference in July 2022.
Chief Hoover is an expert executive and has worked at high levels of government in developing and implementing fire protection, fire prevention, fire training and community risk reduction programs. At the age of 16, she started her career in the fire service by obtaining her EMT certification. In 2006, she received her MBA in Business and Human Resources from the University of Phoenix, as well as a Bachelor of Technical Education, specializing in Fire Protection and Safety from Oklahoma State University in 1985. Also, she has an associate degree in Fire Protection Engineering Technology from Oklahoma State University and a lifetime teaching credential for fire science in California.
Chief Hoover served as the California state fire marshal from July 2009 to July 2016. During her time there, she was responsible for statewide fire prevention, fire service training, pipeline safety, code and regulations development, and analysis and implementation. From May 2017 to January 2020, she served as the superintendent of the USFA's NFA.
In January 2020, Chief Hoover was appointed as the deputy U.S. Fire Administrator.
The Everett E. Hudiburg Award is the highest honor IFSTA may bestow to an individual who has made significant contributions to the training of firefighters.
---
WRITTEN BY: Kallie Coakley | FPP Marketing Student Intern
The International Fire Service Training Association is an organization of fire service personnel who are dedicated to upgrading firefighting techniques and safety through training. Since 1934, IFSTA has been the worldwide leader of the fire service in developing fire and emergency responder training materials. IFSTA produces training manuals, eBooks, curriculum, test prep, workbooks, skill sheets, interactive courses, instructor resources and more. For IFSTA-FPP media inquiries, contact Marketing Coordinator Erin Portman at erinfl@osufpp.org or call 800-654-4055.