October 3, 2019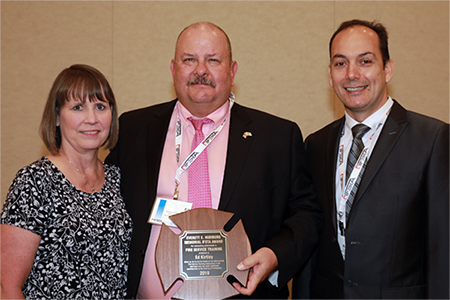 During the General Session of the International Fire Service Training Association (IFSTA) 86th Annual Validation Conference held in Tulsa, Oklahoma, the 2019 Everett E. Hudiburg Memorial Award for Outstanding Achievement in Fire Service Training was presented to Assistant Dean Ed Kirtley of the College of Engineering, Architecture and Technology (CEAT) at OSU. Kirtley leads the CEAT Extension units.
Kirtley, a U.S. Marine Corps veteran, was recognized for his extensive career in fire service leadership and education. A University of Oklahoma graduate, Kirtley began his fire service career with the Colorado Springs, Colorado Fire Department where he managed the fire department training division, including training programs, activities, and facilities. He also served as the first chair of the Colorado Metropolitan Certification Board from 1994 to 1998 and was actively involved in the accreditation of metropolitan fire departments in Colorado.
Following his career in Colorado, Kirtley served as Chief of the Guymon, Oklahoma Fire/EMS department from March of 1998 to March of 2004. During his tenure in Guymon, he led the transition of the city's EMS transport service from the police to the fire department and played a key role in its eventual certification as an advanced life support transport service. Kirtley also served on the leadership team of the Oklahoma Panhandle fire chiefs to help create an associate degree in firefighting and intern program at Oklahoma Panhandle State University.
In 2004, Kirtley was hired by OSU Fire Service Training as the officer/instructor program coordinator. In 2006, he moved over to OSU Fire Protection Publications where he served as the International Fire Service Training Association (IFSTA) Projects Coordinator. In 2011, he became the Director of OSU Fire Service Training where he served until his appointment as Assistant Dean of CEAT.
IFSTA Executive Director Mike Wieder noted that "few people in the fire service have made a greater contribution to the training and education of firefighters at a variety of levels then has Ed Kirtley."
The Award is the highest honor IFSTA can bestow to an individual who has made significant contributions to the training of firefighters, and is named after Everett Hudiburg who was Editor from 1955 through 1975, of IFSTA publications, that were known as "The Red Books". His contributions to the organization's training materials are recognized through this award which bears his name.
IFSTA was established in 1934 with the mission to develop and validate training materials for the fire service and other emergency responders. IFSTA is an association that attracts the world's leading experts who are dedicated to advancing firefighting and emergency response techniques and firefighter safety through validated training materials. Fire Protection Publications at Oklahoma State University, is the IFSTA headquarters, publishing and distributing the validated training texts and other materials that support firefighter and emergency responder teaching and learning.