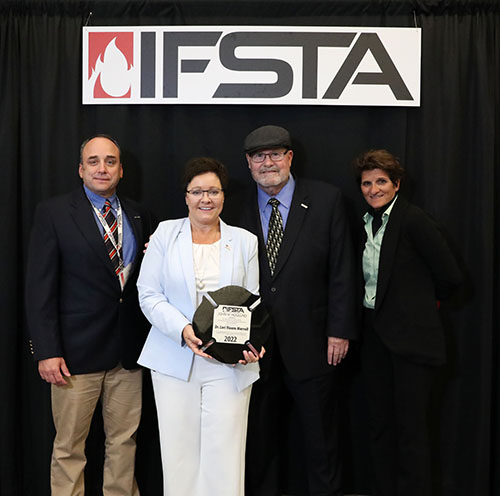 Dr. Lori Moore-Merrell, U.S. Fire Administrator and past IFSTA Executive Board member, was awarded the John W. Hoglund Award during the International Fire Service Training Association's 89th Annual Validation Conference in July 2022.
Dr. Moore-Merrell is an international speaker, presenter and author. She began her fire service career in 1987 as a paramedic for the City of Memphis Fire Department in Memphis, Tennessee. Then, she served as a senior executive at the International Association for Fire Fighters for 26 years. During her time with IAFF, she assisted members by providing emergency response evaluations, public safety resource deployment analysis, community risk assessments, data collection and analysis and strategic planning. In 2019, Dr. Moore-Merrell founded the International Public Safety Data Institute with the help from a small group of fire service professionals and leaders. The IPSDI procures, assembles, analyzes and reports information from fire, rescue and law enforcement data.
Dr. Moore-Merrell was appointed as the U.S. Fire Administrator on October 25, 2021 by President Joe Biden.
She has also been awarded the James O. Page Achievement Award, the IAFC President's Award twice, the Dr. John Granito Award for Excellence in Fire Leadership and Management Research, the Metropolitan Fire Chiefs President's Award of Distinction, the Mason Lankford Award and the Homeland Security Today Mission Award.
The John W. Hoglund Award is presented by the IFSTA Executive Board to an individual who has exhibited outstanding leadership and service to the board and IFSTA during their tenure.
---
WRITTEN BY: Kallie Coakley | FPP Marketing Student Intern
The International Fire Service Training Association is an organization of fire service personnel who are dedicated to upgrading firefighting techniques and safety through training. Since 1934, IFSTA has been the worldwide leader of the fire service in developing fire and emergency responder training materials. IFSTA produces training manuals, eBooks, curriculum, test prep, workbooks, skill sheets, interactive courses, instructor resources and more. For IFSTA-FPP media inquiries, contact Marketing Coordinator Erin Portman at erinfl@osufpp.org or call 800-654-4055.