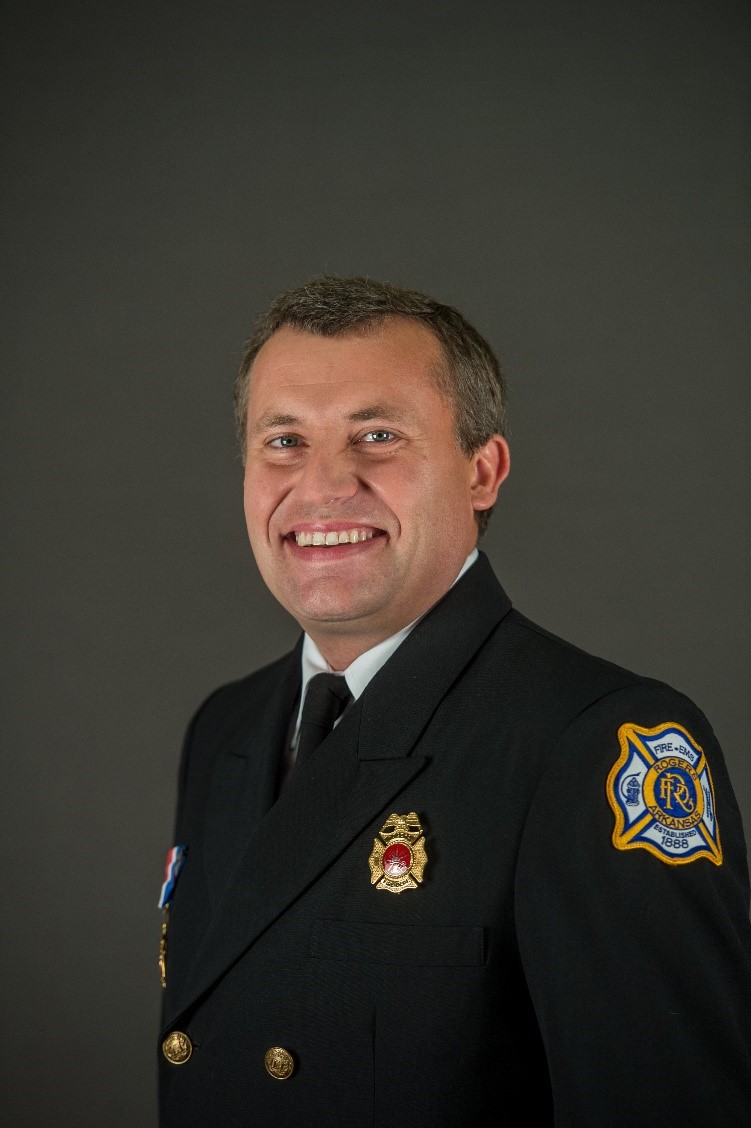 STILLWATER, Oklahoma - Tom Jenkins, fire chief for the Rogers Fire Department, Rogers, Arkansas; was reappointed to the International Fire Service Training Association Executive Board during the 2023 IFSTAⓇ Winter Meeting, January 12, 2023.
Tom Jenkins has served as the Rogers Fire Department fire chief since 2009. Prior to his arrival in Arkansas, he served as deputy chief for the Sand Springs Fire Department in Oklahoma.
Chief Jenkins is a 2006 graduate of the NFA Executive Fire Officer Program and a chief fire officer and chief EMS officer designee from the Commission on Professional Credentialing. Chief Jenkins served as the International Association of Fire Chiefs president from 2017 to 2018 and served on their Board of Directors from 2015 to 2019. He was first appointed to the IFSTAⓇ Executive Board in 2017 and represents IAFC.
Chief Jenkins has served as an adjunct professor for Oklahoma State University, Drury University and Northwest Arkansas Community College. Chief Jenkins holds a bachelor's degree in fire protection and safety engineering from OSU and a master's degree in public administration from the University of Oklahoma.
Chief Jenkins is a widely recognized leader in the fire service. He is a regular presenter at national conferences and serves in various capacities on numerous boards and committees, including NFPA 1710.
In addition to IFSTAⓇ, Chief Jenkins serves as a board member for the PulsePoint Foundation, Science Alliance, International Fire Service Research Center and Policy Institute, and National Fallen Firefighters Foundation. In 2020, Chief Jenkins was appointed to the Homeland Security Advisory Council for the U.S. Department of Homeland Security where he served until 2021.
Chief Jenkins serves on the IFSTAⓇ Executive Board with Stephen Ashbrock; Thomas Breyer; Mary Cameli, chair; Bradd Clark; Scott Kerwood; Wes Kitchel; Gordon Lohmeyer; Jonathan Lund; Dan Madrzykowski; Jeffrey Morrissette; Denis Onieal; Dan Ripley; Demond Simmons; Josh Stefancic, vice chair; and Mike Wieder, executive director.
---
WRITTEN BY: Sarah Palmer | FPPⓇ Marketing Specialist
The International Fire Service Training Association is an organization of fire service personnel who are dedicated to upgrading firefighting techniques and safety through training. Since 1934, IFSTAⓇ has been the worldwide leader of the fire service in developing fire and emergency responder training materials. IFSTAⓇ produces training manuals, eBooks, curriculum, test prep, workbooks, skill sheets, interactive courses, instructor resources and more. For IFSTA-FPPⓇ media inquiries, contact Marketing Coordinator Erin Portman at erinfl@osufpp.org or call 800-654-4055.