October 3, 2019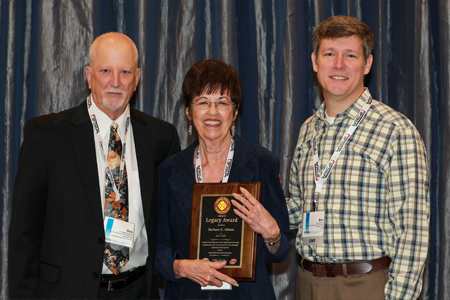 The Annual Research Symposium that supports the International Fire Service Journal of Leadership and Management (IFSJLM) was held in Tulsa, Oklahoma, on July 13, 2019, at the Hyatt Regency Hotel. At the research symposia, national and international scholars present papers on topics related to fire leadership and management. IFSJLM is sponsored and published by Fire Protection Publications (FPP) and the International Fire Service Training Association (IFSTA) located on the campus of Oklahoma State University (OSU).
At the 2019 symposium, retired FPP Senior Editor Barbara Adams was presented with the IFSJLM Legacy Award. This award recognizes individuals who have made a significant contribution to the development and production of the journal. Barbara served as the copy editor for the journal from the time of its inception. Although she retired from FPP in 2015, she continued to serve as the journal copy editor through the 2018 edition. Her influence on the content and design of the journal played a significant role in the outstanding publication that is become over the years.
Founding Journal Editor Dr. Bob England noted that "Barbara is very deserving of the IFSJLM Legacy Award. For the past ten years she served as the copy editor of the International Fire Service Journal of Leadership and Management. In addition to her copy editing, we also asked Barb to become THE expert on the American Psychological Association (APA) referencing style used in the Journal – clearly a job in itself. Barbara always handled all tasks and duties with grace, expertise, and patience. She is a great teacher and role-model to all who know her."
Congratulations to Barbara Adams for being selected the IFSJLM Legacy Award recipient for Research Symposium 2019. We applaud her dedication to and passion for enhancing the quality of life and well-being of the women and men in the fire service through work on the journal and IFSTA manuals.